The term "pyrolysis" refers to a process of thermal treatment to convert hydrocarbon waste to fuel or chemical products. Pyrolytic process creates value from scrap materials that otherwise be landfilled.
For the first time, the practice of pyrolysis was introduced in the end of XIX century for derivation of lighting gas from kerosene fraction.  Already in 1877 the patent was registered for the pyrolysis technology.
The first practice of pyrolysis was introduced through derivation lighting gas from kerosene fraction in the late decade of XIX century. Today the process was studied, modified and developed. Modern pyrolysis systems, presented and researched in the world waste management market, are unique in terms of the type of inputs the plants can handle and the process outputs. These technologies are characterized by high temperature rates and oxygen free environment:
low temperature pyrolysis — 450-550 °C
mid temperature pyrolysis — 550-800 °C
high temperature pyrolysis —900-1050 °C
The whole process is carried out in ambient pressure.
Technologies which are categorized as pyrolysis can be classified into:
—  dry and oxidizing, depending on reaction type;
—  oil, wood, tire, or plastic waste treatment technologies, depending on raw materials composition;
—  batch or continuous systems, depending on feedstock input method.
Watch the video on TDP plant pyrolysis process description.
Systems Feedstock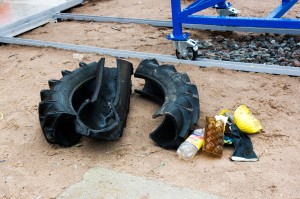 Scrap plastics
Used tires
Resin products
Oil sludge
Drilling waste
Oil-contaminated soil
Wood
Coal
Waste oils
---
When using the material or any part of it the link to the website (www.tdpplant.com) is required.