WEEE treatment Congress: Eco-CARBON experts report
Section:
News
The 4th Eurasian Congress dedicated to the treatment of Waste Electrical and Electronic Equipment (WEEE) was arranged on March 20-22, 2019. The Swiss company "Smart Resources" jointly with metal scrap recyclers' partnership RUSLOM.COM hosted the Congress. Representatives of the leading processing industrial waste and solid municipal waste enterprises, machine-building plants, potential recyclable materials sold-to parties, government and state officials, global industry associations and experts assembled at one site.
WEEE and Automated Shredder Residue (ASR) are hard to decompose, aside from the fact of containing some hazardous components. In the meantime, this type of waste is a potential source of precious metals. For instance, according to the data provided by the company Apple, in 2016, approximately 1 ton of Au was recovered after processing of disabled gadgets, which made the company a net income of $ 40 million.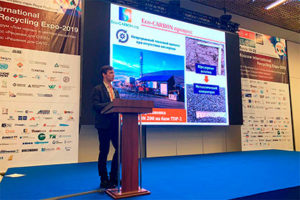 The Directive WEEE 2012/19/EU aims to reduce the amount of electric and electrical equipment waste to be landfilled. This goal should be reached by providing more environmentally conscious approach to all the aspects of the product lifecycle, including an advanced product design to ease the further recycling of it. The fact that the Directive allows reusing some valuable components derived from the process obligates the suppliers to search for more efficient and cost efficient ways to treat the waste.
Eco-CARBON experts presented a unique shredded waste reclamation technology to the visitors and participators of the Congress. This technology allows extracting the process materials, succeeded by further using of energy derived from the shredded fraction. In accordance with the proposed technology, the light fraction of the shredded material undergoes thermal treatment at the Thermal Decomposition Plant (TDP-2). The process outputs are liquid and gas fuel with high calorific capacity, dry residue with a concentration of fine metals, such as Cu, Zn, Au, Ag, Pt, and Pd up to 60 %. In such a way, the proposed technology allows processing of WEEE with the highest profit for the organization.