Pyrolysis reactor TDP-2-2000 was sent for Slavneft-Krasnoyarskneftegaz
Section:
News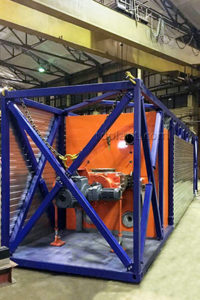 At the end of December, IPEC shipped a new reactor to complete the continuous pyrolysis plant TDP-2-2000, which processes drilling waste at the Kuyumbinskoye field of 'Slavneft-Krasnoyarskneftegaz'.
Equipping the complex with an additional pyrolysis unit will by far increase productivity. In addition, the tandem concept is an effective solution for the treatment of watered oil sludge: preliminary drying of the raw material is carried out in one reactor, proper thermal decomposition of the concentrated residue — in the second.
From mid-January to early February, installation, commissioning and testing of the TDP-2-2000 complex in tandem will be held. The equipment is operated by the service company 'BT-Promotkhody'.