Waste plastic treatment in Europe: TDP at the legislative level
Section:
News
A live stream on the European Parliament plenary session in the town of Strasburg was held on March 27, 2019 on the official website of the European Commission. The position of the European Parliament adopted at first reading on March 27, 2019 with a view to the adoption of the Directive (EU) 2019/… of the Parliament and of the Council on the reduction of certain plastic products impact on the environment was published on the official website of the European Parliament.
As required in the project, a ban on producing and marketing of certain plastic products will be imposed on the territory of the European Union starting from 2021. The list includes such products as:
cutlery (forks, knives, spoons, chopsticks);
cotton bud sticks;
straws;
sticks to be attached to and to support balloons;
cups for beverage made of expanded polystyrene;
etc.
Moreover, oxygen-decomposable plastic is not allowed to be used too (do not be confused by biodegradable plastic). The new law also restricts the use of a single option food packaging made of plastic; it is planned to reduce the current figures by 25% by 2025. Along with that, reuse of PET bottles by 2029 should reach 90%. The current draft law is issued to protect the marine fauna, which is most affected by the waste plastics.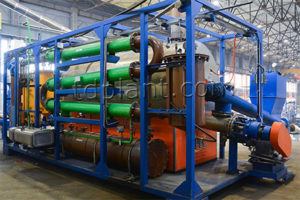 Even though the above listed is a long-expected environmental policy measure, it creates serious problems for producers and users of these products, as not all types of plastic are easy to recycle. At the same time, reclamation of waste is in great demand nowadays, which is the reason for an active development of new innovative technologies.
For many years, the Company IPEC has been processing waste from various industries. The continuous pyrolysis technology developed by our specialists allows processing a wide range of waste plastics as well as producing of carbon black and light petroleum components. The industrial facilities of IPEC comply with the international requirements of CE and ASME.