First high-capacity pyrolysis plant TDP-2-2000 commissioned at oil-gas field
Section:
News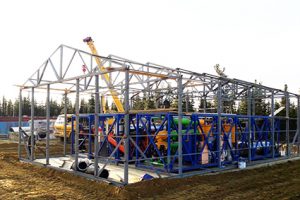 The success of BT-Promotkhody Company allowed extending business relations with NGK Slavneft in 2017 as well.
In addition to successfully operating pyrolysis units TDP-2-800, new TDP-2-2000 unit of high capacity was commissioned for the first time at Kuyumbinskoye oilfield. The new TDP-2-2000 of IPEC manufacture has the same dimensions as the former units but differs by modernized screw system, which ensures the balanced distribution of heat removal inside the reactor. It ultimately leads to increasing of plant's productivity.
TDP-2-2000 pyrolysis unit is capable of processing of oil sludge, generated at NGK Slavneft oilfields. The plant is now put into operation and ensures the continuous processing of tens of waste tons per day. These results fully cope with the calculated parameters of the innovative model.
Recall that another TDP-2-2000 plant, manufactured at IPEC production site by the order of European company, is now being prepared for the shipment.