Eurasian Patent for pyrolysis plant TDP
Section:
News
Eurasian Paten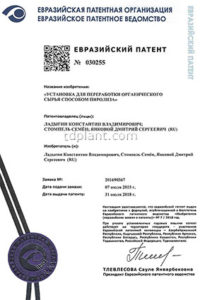 t for the equipment designed for conversion of organic waste by means of pyrolysis has been received. This Patent acts on the territory of the Eurasian Patent Convention member states – Azerbaijan, Kirgizstan, Armenia, the Republic of Belarus, Qazaqstan, Tadjikistan, Turkmenia and Russian Federation. Mechanism of the Equipment, technology provided by the Thermal Decomposition Plant and the technical result of the process have been patented.
The equipment for organic waste treatment is capable of processing solid and liquid types of raw material in a voluntary combination with irregular moisture content. An increased operating safety and extended working period until the overhaul of equipment are ensured. According to the incoming type of feedstock for treatment, it is possible to specify a chemical and fractional makeup of liquid pyrolysis fuel and dry residue beforehand.
The technology of organic waste pyrolysis has no viable alternatives in the above-stated countries. Neither  of other existing know-how meets the environmental requirements and provides generating of pyrolysis standard outputs.
TDP-type pyrolysis plants are high-demanded on the market of the CIS countries. Obtaining EA will provide a reliable legal defense for IPEC when exporting equipment abroad.